Grammys embrace
veterans over youth
GRAMMY RATINGS:
MUSIC TO THE EYE'S EARS
I wonder if Bobby is my dad?-Bobbi Kristina
I just finished smoking pot, a light is the last thing I want in my face-Bobby
So Bobby, how good is superhead? -Whitney
Recent picture of The Brown's hanging out for old time sakes. Geez, their little girl is growing up so quick living that glamorous life. I just hope she isn't on E! or releasing a porn ten years from now.
When Ike Turner was asked what it means to him to get his first Grammy without Tina Turner in his 50-year career (for Best Traditional Blues Album) he asked rhetorically, 'What does it mean? It means that I'm still living. I made the first rock 'n' roll record and now I made this record."He added that he's about to make more recordings, including one that mixes blues with hip hop, and a separate one cut directly with rappers, including Snoop Dogg.
COMMON AND KAYNE
Kanye West Wears Troop in New Teriyaki Boyz
'I Still Love H.E.R.' Video
Legend admitted that winning this time, as opposed to his first triumphs, for his debut, wasn't quite as exciting.
"It's not the same," he said. So much for the second time around".
JOHN LEGEND MAKES HIS OWN LUCK ON
VALENTINE'S DAY
A somewhat skeptical press asked "American Idol" judge Randy Jackson what he was doing backstage. He seemed a bit taken aback. "Unlike Simon Cowell and Ryan Seacrest, I don't go for the limelight," he shot back. He pointed out that he put together the song that won "R&B Duo or Group with Vocal" (a multi-star remake of Sly Stone's "Family Affair.").
BEYONCE:
Beyonce's amazing four costume changes
Beyonce at the Grammy
Beyonce Backshot
Ciara
Rhianna
Rihanna @ 49th Annual Grammys - Winner of The Bastardly Hoochie Award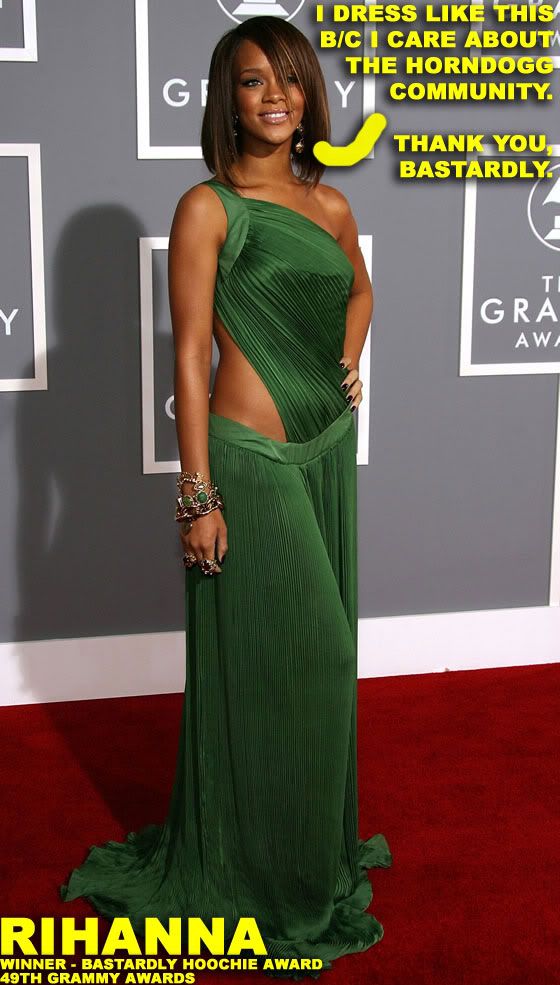 Bow Wow Trying To Kick Game @ Rihanna?
Bow Wow Launches
New Label, Crew

Bow Wow Gives Fans A Chance To Be His "Virtual Valentine" -
So So Def Party Tara reid
Tara Reid not on the list for Jermaine Dupri's Grammy Invasion Party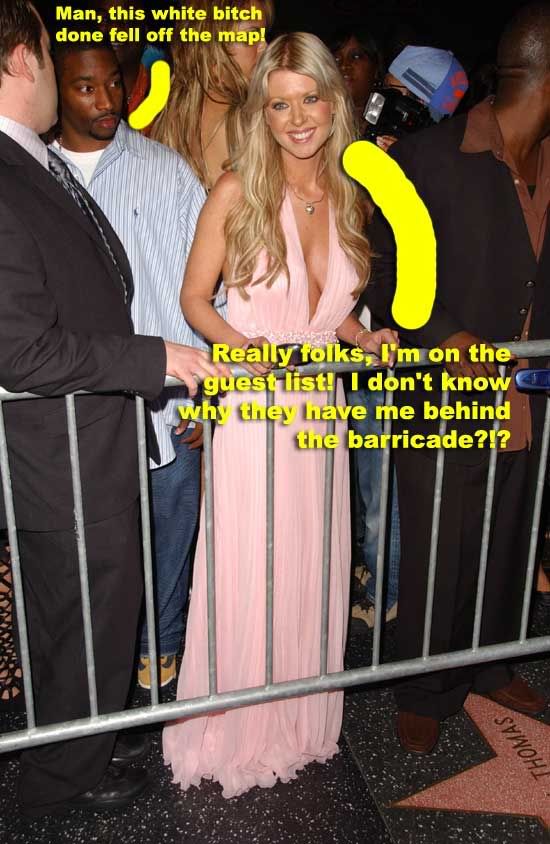 Tara Reid Presents "Trying To Get Into A Grammy Party"
I know right...this is crazy...there must be some sort of misunderstanding...
C'mon dude my name is Tara Reid...T-A-R-A-R-E-I-D...
Feerrrrrrrrgiiiiiiieeeeee!

This is what happens when you're on the D-LIST...damn she was just HOT!
TARA REID FURIOUS WITH JOE FRANCIS FOR SAYING
SHE WAS THE WORSE OF ALL
Speaking of which
TIMBERLAKE signing a new partnership deal with US communication giant Verizon to launch JT TV at pre-Grammy party
TENSIONS were running high Friday night at the Rolling Stone/Justin Timberlake pre-Grammy party at Avalon
.
Members of the "Grey's Anatomy" cast got their noses out of joint when they had to move tables for Sean Combs.His guard were demanding them to 'Get out! Get out now! Move it!' . Also all 3 Britney exes were at the event.
Video: Celebrities attend
Rolling Stone Party at Avalon in Hollywood
Clive Davis' Pre-GRAMMY Party 2007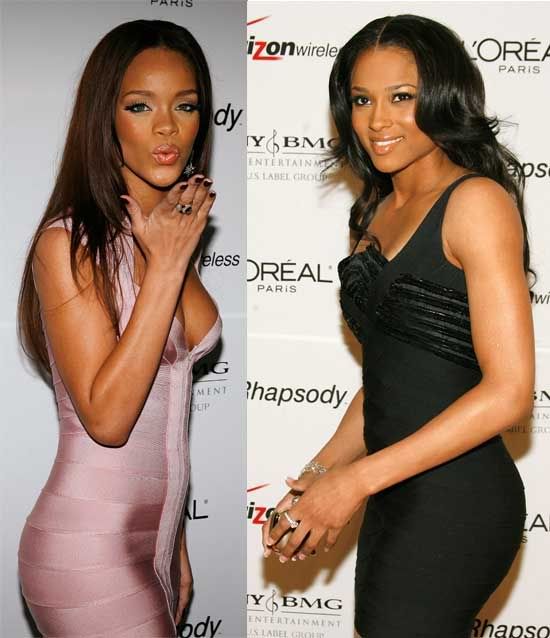 GRAMMY Award recipients are indicated as the awards are presented
My HumpsThe Black Eyed Peas
Track from: Monkey BusinessBest Pop Performance By A Duo Or Group With Vocal
WILL.I.AM BRANDS JACKSON SMARTEST MAN EVER and
"He is still real proud of being black."
Fergie Takes
The Dutchess Platinum
, Idols Go Gold
Christina Aguliera - It's A Man's, Man's World (49th Grammy)(Yo I aint into artist doing classic over but Im Not Gonna Lie She Killed it)
Chamillionaire
Ludacris & Gnarls Barkley
Score Big At Grammy
Ludacris & T.I.
Take Home A Couple Grammys
When the hit rapper T.I.was asked how he plans to celebrate his two awards, he deadpanned: "I'm going to drink myself into a stupor."
Ludacris Ft. Mary J.Blige - Runaway Love (49th Grammy Award)
MARY J BLIGE
CLEANS UP
NOW SHE'S A GRAMMY WINNER
Mary J. Blige came in with 8 nominations and ended up with 3 wins. But she said that was quite enough for her. She also said the wins were a vindication, since her record company didn't want to put out her album at first. "They said 'Mary's washed up, Mary's finished,' she recalled. "It was like a valley. But in the valley you find out who you really are. That's why we have a peak right now."
Runaway Love- Hinata Sakura Ino
Shakira Give Clef A Hardtime
Shakira Grammy's Hips Don't Lie
Gloria Velez don't got beef with Game says "Actually, he's not really dissing me in the video," she explained. "He's actually giving props, telling the video vixen she's trying to be Gloria Velez. So he's giving me big ups. I had to show him love and actually we're friends.
"We all were shocked," she added about what all the video models thought of the song when they first heard it. "I also want to let people know that not every girl wilds out. They're grown ups and can do whatever they want actually. Who are we to judge and say they are hoes or sluts? But we are business women here to work, not follow a rapper and his entourage. Not all girls are Superhead. We have brains, families, kids. The song is not for all girls. Game even says it's not about all girls. Its certain girls he called out who might have done it, I ain't sayin' no names. If you feel offended, you must be one of the girls."
Mixtape Monday
Video: Fat Joe - Make It Rain (Remix)
A Vegas Night Paris Hilton Terror Squad
Paris Hilton
cries while buying a candy bikini
EXCLUSIVE
Hilton's $1/2 million talk show demand
Socialite-turned-reality TV star
NICOLE RICHIE stood her dad LIONE
L up at the Grammy Awards yesterday (11FEB07). Soul legend Lionel invited THE SIMPLE LIFE star to be his date to the prizegiving, but she was forced to decline to attend a photoshoot.

Bitches With Guns

Pussy Cat Dolls

Britney Speaks Out Pussy lips
Britney's marathon
sex sessions to get over K-Fed!
Lindsay Lohan
'Happy' in Rehab, Mom Says
Paula Abdul: "
I've Never Been Drunk In My Life!
Guess Paula is Jessicas "Idol"
Jessica Simpson Loves to Suck
Fantasia 'Sucker Free' :Visits Set of MTV Show
Brandy Hmmm sweet like candy
LAWYER ANNOUNCES
NEW LAWSUIT AGAINST BRANDY
: News comes from attorney representing victim's kids.
Jada Pinkett Smith OK with Will's crushes